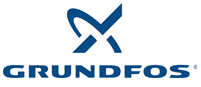 Wide Range of Sizes
Grundfos offers a complete range of submersible pumps and motors to fit virtually any application, with flowrates of 0 - 1100 gpm.

State-of-the-art Hydraulics
Pump efficiency is maximized by constant improvement of the high-performance hydraulic design, and precise manufacturing process.

100% High-grade Stainless Steel
Rugged stainless steel construction inside and out resists corrosion and attack from aggressive liquids.

Wear-resistant Design
Designed to flush abrasive particlesfrom the pump, and made fromstainless steel to resist wear caused by abrasives.

Motors
Grundfos manufactures it's own line of quality submersible motors in a broadvariety of sizes, stainless steel construction, and quality design. Grundfos can provide the complete solution for your submersible pumping needs.

Motor Controls and Protection
Available controls to protect the motor against burnout and dry-running, plus the ability to monitor the system allowing the user to optimize settings.